Blog
19 June 2022 / by Kennedy / Fibre, Internet + Networks.
White-label ISP services in Preston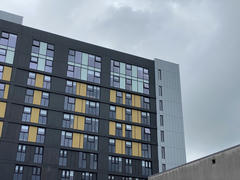 We've been working with Heaton Group since 2020. Heaton Group develops homes to rent, live and invest in, in high demand areas such as Bolton, Chorley, Central Manchester, Wigan and Warrington and Preston. They renovate listed buildings, conversions or office spaces and develop new builds into high specification apartments and living spaces.
Since our initial provision of broadband connectivity to 61 flats in Bolton we've been busy connecting a number of their new developments and have now wired for connection over 230 flats in Bolton, Wigan, Oldham, Stretford and Preston (which is currently in progress).
The latest Preston development has 130 flat units. Initially we provided connectivity (400Mbit/sec FTTC/SOGEA bonded lines via Zen) to the site office while building work progressed. Gigabit connectivity through Neos is ordered and fibre is installed and we've configured the switches and routers; National Fibre has installed the network in the building, connecting the flats with the comms room. All units have CPE installed, and the first tenants are already connected.
Heaton Group own the customer relationship and first line support is provided by their fibre installer National Fibre. We provide connectivity, customer premises equipment (CPE) and third line support. We've provided National Fibre with a control panel enabling them to check if a customer is online and if there are any problems, and they're also able to disconnect customers defaulting on payment of bills.
We've been working successfully with Heaton Group and National Fibre for over two years and we're delighted to be able to provide reliable, fast connectivity to the residents of all their connected buildings.
---